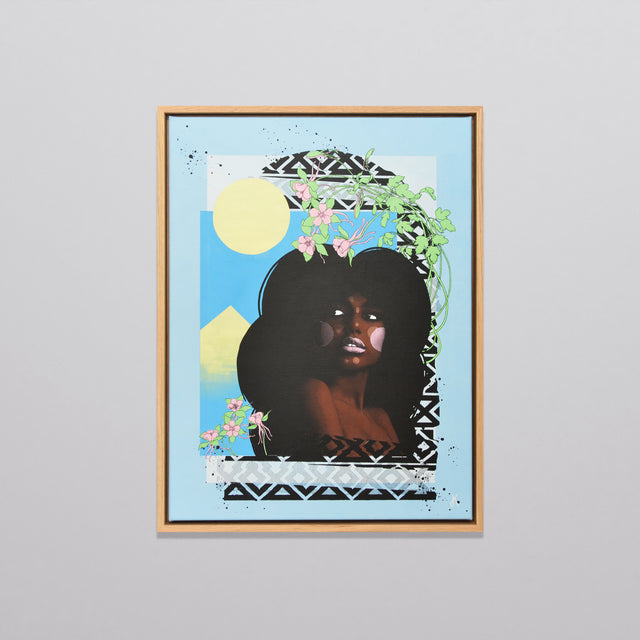 Roya, a name that has its roots in Persia, translating to "vision" and "dream", has a distinct mysterious energy, perfect for those who feel connected to their spirituality or religion.
-
About the concept
Step into the world of Electric Dreams, where art and technology collide to explore the relationship between humanity and machines, as well as between dreams and reality.

My journey began with a single lucid dream and my quest to recreate it. In the search for answers, I pondered the existence of the ethereal figures that inhabit dreamscapes. Are they people we know and love? Are they people we dislike? Or even individuals who have briefly passed us in an encounter, subconsciously absorbed into our minds without reflection. Do they exist at all, or are they mere figments of our imagination?

My creative journey took an exciting turn when I introduced Artificial Intelligence (AI) to breathe life into these enigmatic dream characters. These AI-generated models exist in a realm where reality and imagination entwine. Much like the boundaries of a lucid dream, AI is a mishmash of digital imagination, blending what the machine perceives and hallucinates into something vivid. The result is a collection of artworks that embody Electric Dreams - where art meets technology, and reality blurs into fantasy.

Techniques used

The use of AI in any art should always be clearly disclosed, along with an explanation of how it has been utilised. This transparency provides a clear indication of where the line between man and machine begins and ends, and, more importantly, it establishes ownership of the creation.

In the case of Electric Dreams, AI has been employed to create a photorealistic model, replacing the use of stock imagery or photoshoots. I then take this image and edit it to create my style of work, which involves a combination of digital editing and analogue techniques, including printing, tearing, distressing, hand-warping via scanners, and collaging until I achieve the desired composition. Once I am satisfied with the works created, I proceed to bring the art to life in its physical form, utilising a combination of screen printing, stencils, spray painting, traditional painting, and painstakingly applied halftones by hand. This process results in an almost 3D piece of work - tactile and distressed, precise yet spontaneous.

What truly makes Electric Dreams special is the back-and-forth interaction between human and artificial imagination, followed by the transition from digital creation to physical engineering. The collaboration between these two forces is intertwined from concept to creation, shedding light on how art can be produced now and in the future with the assistance of AI in a sustainable manner that upholds artists' rights to creative freedom, expression, and ownership of their creations.

-
This original piece combines hand painting of the entire backdrop and a single layer of screen printing - the combination of these techniques delivers a beautiful tension between the accuracy of screenprinting and the looseness of hand-applied outputs.
Art info

Frame - 850 x 600 mm
Art - 800 x 600
Created on fine linen
Original
Signed on front and reverse
Date and stamped on reverse
 
Shipping costs
FREE UK DELIVERY